So I was looking for a ready stock and cheap eyeliner last month cause my previous k-palette is running out and I have to wait til I went to Sasa again >,< Not to mention the price is quite expensive for me~ Then I remember about this eyeliner from etude house with so many good reviews! Even the score in
Makeup Alley
is 4.7 out of 5! o_o
I choose the #3 Brown color since I've never have it before (unless the mizzu one which is SO bad)
When it arrived, turns out that the size is so smaaaall~ comes in a slim packaging with black cap and brown body, I don't think it's as good as Etude's other designs. It's a little bit.. plain, right?
So this eyeliner is a liquid type, and the brush itself is quite thin that you can make a thin, thick, cat-eye, or simply anything easily ;D The long cap also make it easy to use~
SWATCH :
Once I swatch it out, I personally disappointed because the color is literally almost black, I even can say it's black >_< I expect the brown will turn up like this :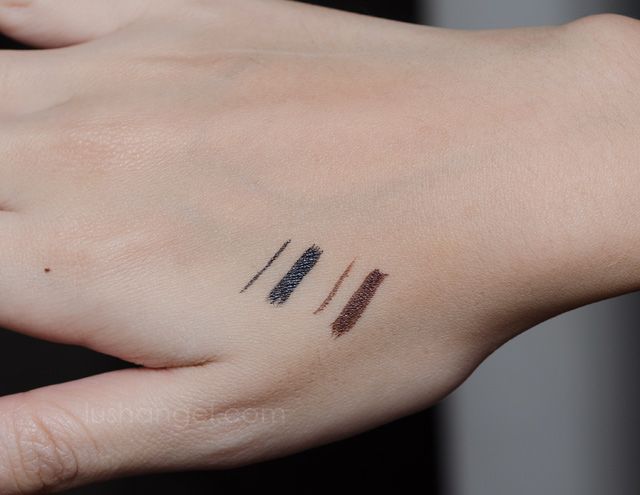 Both the black and the brown one are from k-palette and you can see the difference is obvious right? >_< I want THAT brown >_<
While when I compare this Etude brown and my K-Palette deepest black, it will be like this :
It just looks the same Orz hahah it's true that it's not as black as the K-Palette, but still, it's not brown! >,<
SMUDGE PROOF TEST :
Yes! I rub it so hard about 5 times after it dry and it does stay. Btw I haven't said that since it's liquid liner type, you have to wait for about 5-10 seconds until it's really dry~
WATER PROOF TEST :
It stays when I put water on it, but as soon as I rub it while it's still wet, it turns into some flaky weirdo type (?) Dunno how to say it properly but in fact to remove it you also can by just using hot water and rub it slowly and it will turn into that flaky type~ As long as you don't rub your eyes while it's wet, it will be alright but as for me, personally I think it's a big no no.
Overall, I think this eyeliner is just so-so and doesn't really worth the hype. I would recommend it to people who're looking for a cheap eyeliner with a decent quality, but please take not that it's not really waterproof >_< The good thing is, even in my super oily eyelids it doesn't smudge and turn me into Panda ;D
SUMMARY :
(+) Cheap - around $4
(+) Pointy and sharp brush
(+) Waterproof
(+) Stays in oily lids
(+) Easy to remove
(-) Not really smudge proof
(-) The brown shade is NOT brown
(-) Turn into flaky type it's rubbed while it's still wet
Will I repurchase this? No. I guess I'll just stick with my K-Palette~ (Had already bought another one for backup nyahaha :3)
Have you tried this eyeliner? Do you like it?
Or what's your fav eyeliner? Let me know in comment below :)